Despite the rain and winds of 30-35 knots yesterday, a record 226 entries hit the water for Middle Harbour Yacht Club's Sydney Harbour Regatta and do so again today as they vie for victories in the 21 classes taking part.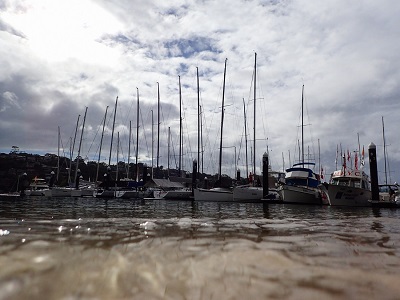 Calm before racing - Andrea Francolini, MHYC
Participants in NSW's largest keel boat regatta will make up for lost time after officials were forced to cut short racing when winds and a big swell on the Harbour rendered racing unsuitable. Even so, many broke gear, wiped out, struggled to keep their boats on an even keel, while the most experienced revelled in the big conditions.
Racing is due to get underway in all classes from 12pm again, both on the Harbour and just outside for IRC/ORCi, Farr 40, Sydney 38 and Sydney 36 classes.
"We plan to do as per the race schedule. At the moment we have a light westerly, there is a 1-2 metre swell offshore, but the sea is smooth," Principal Race Officer, Denis Thompson said at 9am.
"But the forecast is for 25 knots, so we will play it by ear as to whether we send the one-design and IRC boats offshore or not. We'll just keep monitoring the situation this morning and make a decision."

View from Middle Harbour Yacht Club this morning - Andrea Francolini, MHYC
Competitors will not face the big downpours of yesterday, according to weather reports, but rain is still on the cards. Many are sharing stories on yesterday's racing and conditions over a hot breakfast at Middle Harbour Yacht Club this morning.
Yngling NSW Championship
Some classes were fortunate to stay on schedule, including the Ynglings, which sailed on a course near the Opera House. Gary Wogas (Karma) leads the chase for the Yngling NSW Championship title following a pair of second places and a win. One and two points away are Ariane Ritchie (Miss Pibb – the defending champion), and Ruth McCance (Evie) in this close series.
Cavalier 28 NSW Championship
Sailing in the same vicinity, the Cavalier 28's also put three races to bed in their NSW Championship. Winner of the last two state championships, Craig Mitchell (Centaurius) is proving a hard customer again. Two second places and a win have given him a two point buffer over Peter Donnelly's Flying Circus, while David Brown's Quattro is a further four points in arrears.
J70 NSW Championship
The J70s only put one of their three races to bed and Peter Rozenauers Jackal won from Reg Lord's Juno. Last year's Sydney Harbour Regatta winner, Tim Ryan, sailed James into third place.
Sydney 36 Championship
The Sydney 36's sailed two races and Ed Psaltis (Midnight Rambler) has made an easy transition from offshore sailing on a larger yacht to his new '36', winning both races to lead Jack Stening/Colin Gunn's Stormaway and Peter Franki's Saltshaker in a strong fleet.
Other divisions
On other courses, Karl Kwok's Team Beau Geste was on top after two of three races were sailed. Representing New Zealand, the TP52 cleanly won both races. Paul Clitheroe's TP52 Balance and Phil Turner's RP66 Alive share six points in second place, both showing a retirement each.
Division 2 is led by Bob Cox's DK46, Nine Dragons. Neil Padden's Wailea is second and Gerry Hatton's Bushranger third on eight points each, six behind the leader.
The Etchells sailed one race and Matthew McCann won from Carabella IV from Crowle Grant's 'The Hole Way' and Christian Brook's Umami.
Chris Way's Melges 32 Easy Tiger III won the only race completed in the Super 12 series. Kim Williams' Melges 32 Rock N' Roll was second and Adrian Walters' Rob Shaw 11 Metre, Little Nico third.
Rod Jones from Queensland won the lone Melges 20 race from Matthew Crawford's Big Booty and John Bacon's Dark Star.
Andy Wharton (Accrewedinterest) won the one Melges 24 race from Kevin Nixon's Bandit/Accru and Dug Russell's Amigos.
Following two races, Tom Hogan sailed Very Tasty to the top of the Super 30's leaderboard with two wins from Grant McKellar's Stockade and Andrew Parkes' Saudade. Division 2 is led by Lindsay Brown's Dreamtime with Tony Craven's Capriccio second and David Coleman's Vitamin Sea holding third.
With one race away, Jim Curtis (Another Dilemma) leads the Adams 10 pointscore from Patrick Delany's Powderhulk and Brian Lees' Contentious.
Martin and Lisa Hill's Estate Master won both Farr 40 One Design races to lead from Robert Pitts' Double Black and Jeff Carter's Edake.
Other classes will be covered after racing is finalised this evening.
Full results and all information at: www.shr.mhyc.com.au
By Di Pearson, MHYC media